Am Wochenende hat uns das Fernweh gepackt. So richtig großes Fernweh. Kennst Du das? Unsere Sehnsucht ging nach LONDON. Eine fantastische Stadt. So haben  wir drei es uns auf dem Sofa gemütlich gemacht und in Erinnerungen unserer letzten Reise gestöbert. Bilder angeschaut und unser Reisetagebuch durchgeblättert. Ich liebe diese Erinnerungen und diese Momente. Dazu eine Tasse Tee und einen lecker Scones (englisches Teegebäck).
ZACK – und plötzlich ist alles wieder ganz nah.
Unsere Traumkugel von Koziol entführte uns ebenfalls in die schöne Stadt LONDON. Oft sitzt jemand von uns drein auf dem Sofa und schüttelt  kräftig,  schaut zu wie die Schneeflocken langsam auf den Mops fallen und beamt sich für den Moment nach London.
Auch am Sonntag haben wir die Schneekugel fleißig geschüttelt und sind dem Alltag entflohen. Es hat so etwas beruhigendes den Flocken zuzuschauen. Der Mops thront ganz königlich vor dem Big Ben.
Da die nächste Reise nach London schon fest im Kalender steht (Ende Februar) wurde es jetzt endlich Zeit für einen Rückblick. Und so kam es, dass ich an jenem Wochenende meinen Blog in die Hände von meinem Mann übergeben habe. Er ist bei uns der "Reiseleiter". Ich mag es sehr, wenn wir Reisen planen. Also eigentlich mehr er. Mein Mann ist mein Reisebüro.
Einmal London bitte. Hast Du Lust? Dann viel Spaß. Ich übergebe den Block nun an meinen Mann Andy.
Hallo ich bin Andy, der Ehemann im Hintergrund. Heute übernehme ich den Blog mit meiner Lieblingskategorie TRAVEL. Ich liebe das Reisen und freue mich Dir von unserer Reise nach London zu berichten.
LONDON – ein Städtetrip in Bildern
In 2016 verbrachten wir unseren Sommerurlaub in einer der vielfältigsten und interessantesten Städte Europas: LONDON! Wir entschieden uns dazu bereits fast ein Jahr zuvor nach unserer Stippvisite im November 2015. Diese 4 Tage wollten uns damals nicht reichen, dass wir uns entschlossen noch mal im Sommer für länger zu bleiben. So kam es, dass wir uns für 8 Tage London im August entschieden. Wie immer haben wir kurzentschlossen und frühzeitig die Flüge gebucht und dann in Ruhe nach einem passenden Hotel für uns gesucht. In 2015 waren wir in einem Premier Inn Hotel in Greenwich [sprich: gränitsch] untergekommen. Ein sehr schönes Viertel mit einem guten Fish&Chips Fast Food Restaurant gegenüber dem Hotel und einer sehr guten Anbindung mit DLR (Docklands Railwail) oder dem Bus (mit den berühmten roten Doppelstöckern, yeah!).
Jetzt fragst Du sicherlich: Warum schon wieder LONDON?
Die Antwort möchte ich dann doch lieber einem wortgewandteren Herrn, nämlich Dr. Samuel Johnson überlassen. Er sagte bereits vor fast 240 Jahren:
When a man is tired of London he is tired of life; for there is in London all that life can afford.1)

---
Wenn jemand Londons überdrüssig ist, ist er des Lebens überdrüssig; denn in London hat man alles, was das Leben bieten kann.2)
Dem ist auch im 21. Jahrhundert nichts weiter hinzuzufügen.
Kurzübersicht
Tag 1: Anreise Flug nach London Heathrow, Unterkunft im Holiday Inn Express London ExCel, Spaziergang und Picknick an der Themse mit leckerem Essen von LEON.

Tag 2: Themse-Rundfahrt mit Citycruises und bei Ebbe im Themseflussbett.

Tag 3: Greenwich: Cutty Sark, Old Royal Naval College, Royal Observatory & Greenwich Park. Trafalgar Square.

Tag 4: Ausflug an den Ärmelkanal – nach Brighton mit dem Zug (Thameslink) und Fish'n'Chips bei Golden Chippy in Greenwich.

Tag 5: Broadway Market, Hyde Park und Besuch der Houses of Parliament  und auf der Aussichtsterresse des Tate Modern.

Tag 8: Sky Garden im Walkie-Talkie und Heimflug ab London Stansted (Verbindung ab London Bridge mit dem Stansted Express, Tipp: Früh buchen und Geld sparen).
Unser Urlaubs-Tagebuch in Bildern
Für mich fängt ein schöner und erlebnisreicher Urlaub schon mit der Planung an. So startete ich bereits einige Wochen vorher mit der detaillierten Planung mit Hilfe des Reiseführers:
→ London von Lonely Planet im Verlag MAIRDUMONT. Lonely Planet Reiseführer London (Lonely Planet Reiseführer E-Book)
 *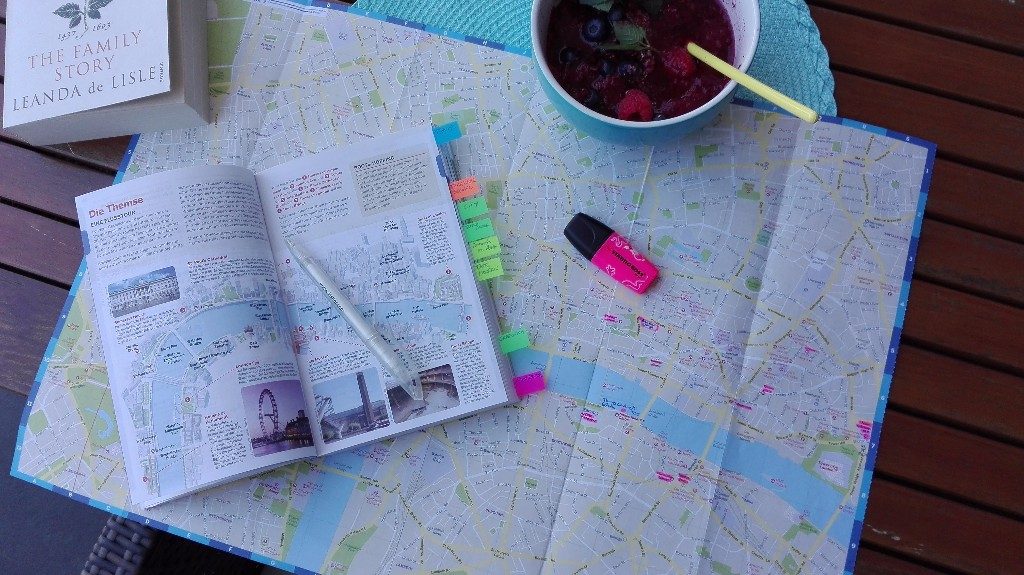 Was dabei herausgekommen ist bzw. was wir in den acht Tagen erlebt und gesehen haben, möchte ich Dir den folgenden Bildergallerien gerne zeigen.
Tag 1
Tag 2
Tag 3
Tag 4
Tag 5
Tag 6
Tag 7
Tag 8
Das war mein erster Post London – ein Städtetrip in Bildern. Mein erster Gastpost und sicherlich nicht mein letzter – in der Rubrik Travel @ katimakeit.
Jetzt bleibt mir nur noch zu sagen:
Thank you for your kind attention!
Let's see us in LONDON!
– – – – – – – – – – – – – – – – – – – – – – – – – – – – – – – – – – – – – – – – – – – – – – – – –
Information an meine Leser: Die im Blogpost mit * markierten Links sind Partnerlinks. Bestellungen, die Du darüber tätigst, unterstützen mich mit einer kleinen Provision. Für Dich entstehen natürlich keine zusätzlichen Kosten. Danke!